So, remember the crazy rug I bought in a parking lot? The one from the sale that showered dirt all over my babe and surely gave me a bacterial infection of some sort? This rug?
I couldn't decide whether to keep or sell. You guys were not impressed by its Versacesque glamours, but I saw something in there... My spidey senses were a' tingling. Lucky for me I have awesomely smart blog buddies. Cassie sent me a link to Lisa the Rug Chick, a textile expert who knows EVERYTHING about rugs. Read her blog... it's amazing. Anyway, Lisa was kind enough to email me with her take on Mystery Rug.
Drumroll, please...
1940s Spanish Savonnerie.
Exciting! I mean, it wasn't a $4 million 18th century French Savonnerie rug:
But it was something.
In the meantime, I had grown very attached to Mystery Rug. I had plans.
Master bedroom Versacefication plans.
However, Lisa the Rug Chick had some not so glamorous news: Mystery Rug was very dirty, and because it was woven on a jute foundation it would need to be painstakingly hand cleaned by a professional. No hosing this 100 pound beast down in a driveway unless I wanted it to disintegrate. Plus the jute edges had some unraveling and repair issues... plus Ben hated it.
I called Deep Eddy rug cleaners and they quoted me $425 to start -- which is not insane to clean a giant dirty antique rug -- but I didn't want to put more money into that particular rug.
Sadness.
I decided to try to sell it, so on a whim I emailed Nazmiyal Rugs in New York. They deal in all sorts of amazing antique rugs, rugs that cost more than my car.
Aaannnnd, I got an immediate call back. They wanted to buy it at the price I had set... If you watch Pawn Stars you know that dealers make you set the price because dummies like me have no idea what their stuff is worth. Therefore I had probably underpriced the rug.
I emailed another dealer, who told me the rug was possibly Austrian. Then I looked up Austrian savonnerie rugs and found this one on Ebay. Looks similar, right?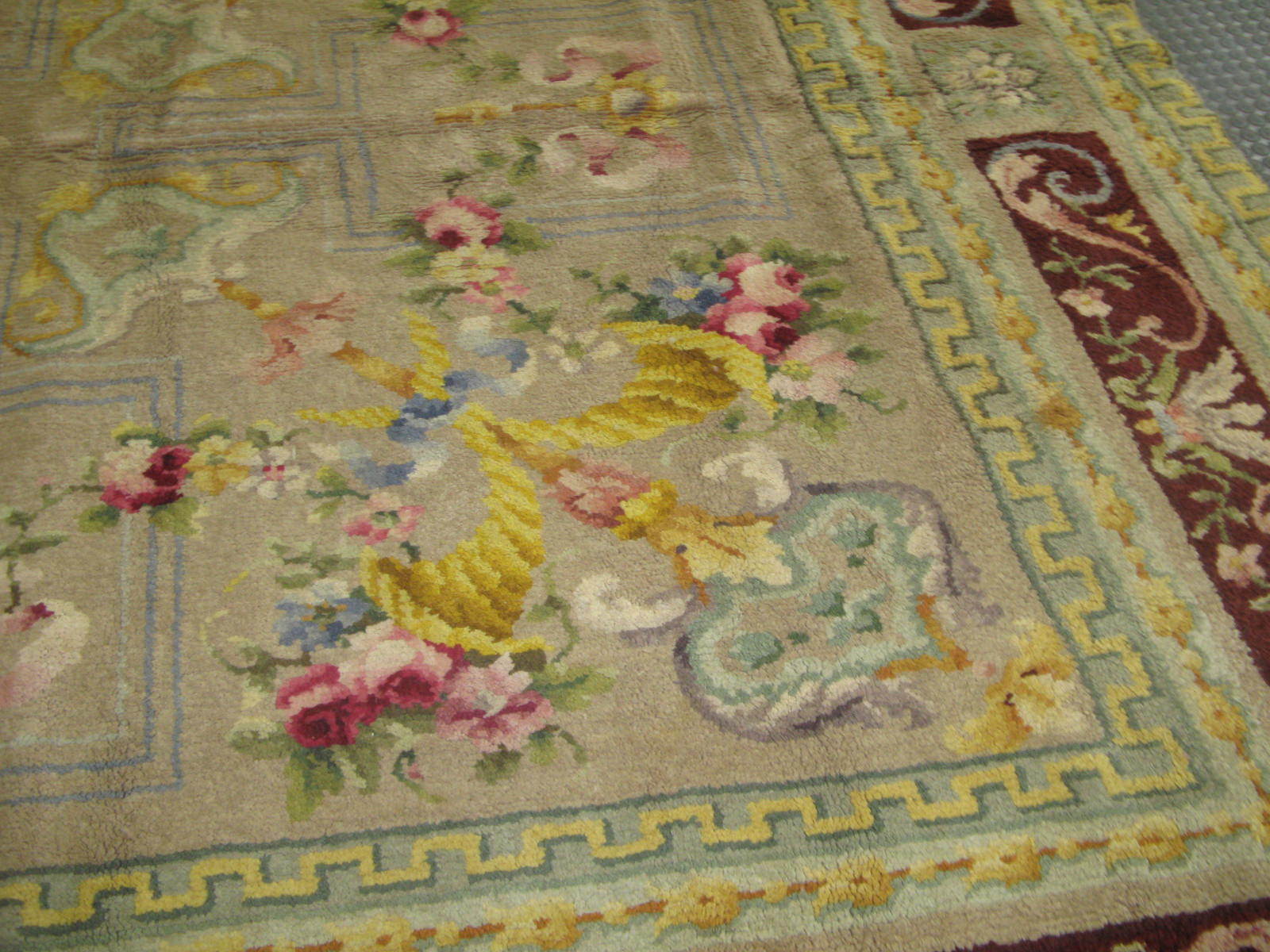 It's $12,000. Kinda more than I asked for. Ooops.
By this point I had already entered into an email contract with Nazmiyal. Hey kids, a written email agreement between a seller and buyer is legally binding.
Good to know, right?
And then I had to ship my rug off to NY on approval, which was nerve wracking. What if they stole my rug AND I was out shipping???
They didn't. They are professional dealers with a fancy brick and mortar location in New York. My little ole rug was chump change to them. Also they were very nice and reassuring.
Cherry popped. Check cashed. Tidy profit made.
Nazmiyal will make a tidier profit, but unlike many people I have no issues with selling to dealers. Yes, they will sell your item for more (a lot more) than you sold it to them, but they have massive overhead to finance PLUS they have invested time and money into building a clientele.
I mean, I could have put my rug on Ebay and asked $10,000, but who would buy it?
Probably nobody.
I hope.
So now I am a tiny bit richer and minus one rug.... guess what that means?
Rug shopping!!!
Probably for the living room (AGAIN), because I think this is going to happen:
I feel pretty good about this plan. I mean, I LOVE my blue rug, but I don't love it with the red persian rug in the living room.
Two rugs in the same room is just tricky town.
We will discuss this ad nauseum later... I have 700 pictures and opinions ready to share regarding this subject.
And someday I will finish my next how to post on buying rugs. Sorry I am so slow.
In the meantime, don't forget to enter the mega Graham and Brown wallpaper giveaway!
It ends Thursday night.
Do it.