Welcome to Rug University... or more likely, Rug Kindergarten. The art and craft of weaving carpets is centuries old and even though I have spent years off and on reading about rugs, my knowledge is just a blip on the radar of fiber history. People who really know their stuff usually possess deep generational knowledge about the subject. I am just a crazy person who loves rugs and I'm sure I'll say something stupid somewhere. Oh well. What I can offer you is information on how and where to buy, and hopefully how not to get ripped off.
Deal? Let's do this.
For this series of rugucational posts I'm only going to deal with woven natural fiber rugs, or rugs that do not have a latex/canvas backing. They could be made of wool, or cotton, or other natural fibers, but they have no backing and the design is visible on both sides.
This is the backside of my handwoven (knotted) malayer rug.
I've been moving away from tufted (latex/canvas backed) wool rugs and towards handwoven wool, cotton, and jute rugs for a while now. Reading The Rug Chick's blog about how shoddily (and stinkily) many tufted rugs are produced totally confirmed a lot of my fears about mass produced wool rugs. I'm not saying all tufted rugs are poorly made -- I'm very happy with the Safavieh leopard rug in our front room:
I'm just saying I prefer to spend my skrillaz on rugs that have the potential to last for decades... if my boys don't burn holes in them first, that is.
Anyway, today let's talk about woven rugs that will go with anything. These are your cheap and chic workhorses that generally come in under $5 sq/ft -- sometimes a lot less.
It's a good idea to decorate a room from the ground up. If you choose your rug first, you'll never have a problem finding fabrics and (even easier) paint colors to coordinate. Working from the opposite direction really narrows your opportunities for interesting and hopefully cheap rugs. Trust me -- I found out the hard way.
This post goes out to all the peeps like me who need a rug to play nice with the stuff they already have.
A solid field is the very easiest thing to decorate around. I suspect that's why jute/sisal/seagrass rugs are so popular. Plus they can be pretty inexpensive and they hide dirt well. Of the three, seagrass is the best to clean but the most expensive, although you can custom order seagrass rugs in any size with dozens of border options at The Perfect Rug for a very reasonable price. Jute is second, and sisal is the pits of hell. To maximize your cost/benefit ratio, you can buy jute and get it from Overstock (wait for a 10% off sale and try to stack a coupon on top) or get it from RugsUSA during one of their 50% sales.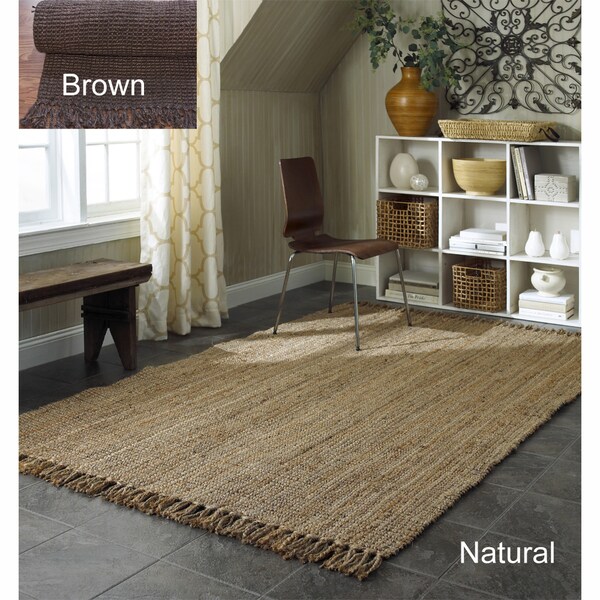 This handsome guy is $180 for an 8x10 HERE.
I don't consider these to be forever rugs, but natural fiber rugs definitely deserve consideration. I like how they can casual up a room and add a natural element, which is especially nice if you don't already have wood floors.
Plus these rugs layer up right pretty and they can be so cheap.
A very simple geometric that runs edge to edge is the next easiest to decorate around. I put wool Moroccan beni ourains in this class. MFAMB just did a round up on cheap sources HERE so I won't cover that ground again.
Any furniture, any colors, almost any fabrics will do. Your rug will be an unsanitary disaster in no time, but that's another story.
I am constantly picking pollen and leaves out of the West Elm faux beni in our very low traffic nursery. It sure is cute, though. Don't spend much on this type of a rug, and for the love of all that is holy buy something small enough to shake it out every now and then.
All over patterns (like the one I just bought, for example) are also relatively easy to decorate around because they have no borders and no center medallions -- things that can make furniture placement tricky.
Tony Duquette makes it look easy, but let's face it -- nothing about this room is easy.
If you have a wonky inflexible furniture plan and buying a rug is stressing you out, an allover design is your friend.
I don't hate this Madeleine Weinrib rug, but I personally would never buy a giant cotton rug I couldn't throw in the washing machine. You want wool -- delicious stain repellent wool.
Dhurries (aka kilims, aka flatweave rugs) are relatively inexpensive because they use fewer materials than full pile rugs. This wool dhurrie came from overstock and it's dirt cheap -- $262 for an 8x10. Even Ikea can't beat that price. Overstock actually has a multitude of well priced wool flatweaves in various colors and patterns. I'm partial to striped or tribal versions, personally... trellis and chevron are feeling pretty dated.
This looks like it might be a wool kilim. I would hit that. Dhurries are nice because they can be used on both sides before they need to be washed. I like to think that a wool dhurrie rug could last for decades if padded, rotated and treated to the occasional bath.
If you buy a dhurrie, a good rug pad is a must. I've shopped around and this one from overstock is the best I've found. It's soft, squishy, does the job and doesn't mark up my wood floors.
The next level of quality and design represents a fairly significant jump in expense. I'm talking about Tibetan type rugs.
I wish I were talking about Tibetan tiger rugs, but a) they aren't cheap and b) they don't exactly go with just anything.
Who am I kidding? This goes with everything.
But really I'm talking more about tone on tone hand knotted wool Tibetans:
This may or may not be a Tibetan, but they are often woven in simple muted patterns.
This one is silk and wool. Unlike other handwoven (hand knotted) wool pile rugs, they do not have fringe.
Warning: there are a lot of creepy 80s Memphis wannabe patterned Tibetan rugs out there. Don't buy them.
Anyway, "Tibetan" rugs are interesting in that they aren't made in Tibet (because of Chinese occupation). Most are made in India by Tibetan and Nepalese workers... or not. The could also just be handknotted Indian rugs made in a "Tibetan style." I don't really have a problem with that as long as the wool is nice quality and it's handmade. Just don't pay $8000 for a rug unless you get an appraisal.
Shouldn't be an issue, right?
I bought mine off Ebay from Pakobel Rugs. He doesn't have any Tibetan/Nepalese (he spells it "Napalese") rugs right now, but you should check back since he gets them in waves. I HIGHLY recommend him -- totally professional and courteous.
In the meantime, may I suggest this 8x10 handknotted Tibetan style rug for $375? So awesome with kelly green and white. Available HERE from brandrugs on ebay.
I would buy from them because they have a 100% positive feedback rating. Also, all good pro ebay rug dealers will give you a 14 day return option. It's a safety net that could be expensive to use (I have return shipped a rug and it's not cheap), but it's good to have just in case. Also, use paypal in case you need an extra level of protection for disputes.
The last category of neutral rugs I have the strength and endurance to tackle today is the beloved Turkish Oushak.
This super light super subtly patterned rug is an antique Oushak (Ushak). Every decorator and their mama wants an antique Oushak because it goes with anything and it adds that certain handmade, natural/organic element every room needs.
Problem is, a real antique (80+ years old) Oushak is expensive... even on ebay. You can, however, buy a newish one at a competitive price. They will most likely be knotted in India or Pakistan (Peshawar), but they still have the soft colors and large scale patterns that work with a variety of decorating styles. I like Rug Emporium's listings:
He lists new Oushak type rugs every day. Some are blue, some green, some very light and neutral. I'd wait for a light neutral one with an allover pattern (no center medallion) to pop up. 9x12s tend to close in the $500-700 range, which is not bad for a large hand knotted rug.
Just fyi, Oushaks can also come in fabulous pastel colors that may not go with everything but are still awesome and amazing. Here's a rug I wish I had bought... it's an actual vintage Turkish rug and it is HUGE (like 10x16). It went for over 1K which is totally worth it, but totally out of my price range. It sure is good, though.
Can you even imagine how long it would take to make a giant rug like that?
Forever, that's how long. And that's why hand knotted rugs are expensive.
That's all I have for today. Thanks for reading this giant long novel. I hope you're still awake.
For my next installment I'm planning a post on purchasing Persian type rugs. Excitement! And I also have a post in the works about other kinds of fancy antique rugs.
Let me know if there's anything specific you want to see and I'll try to work it in.
Until then, happy shopping!
[Images via pinterest]